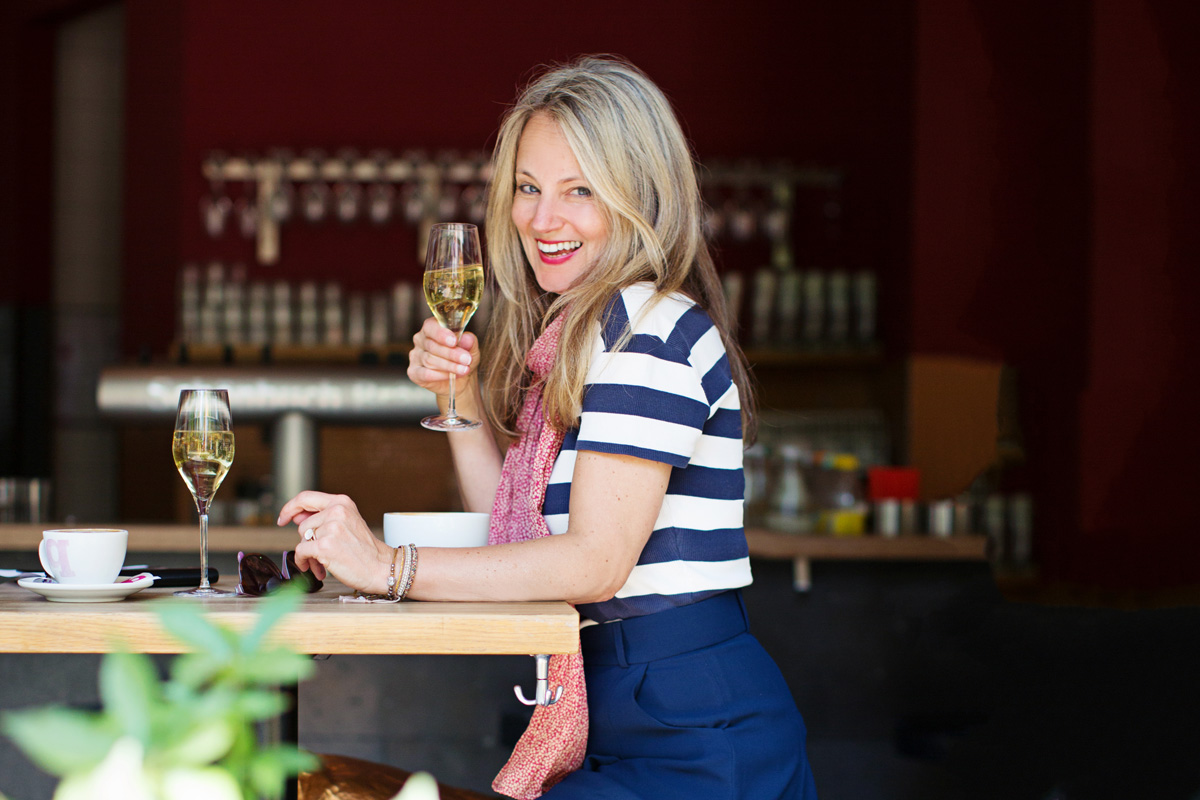 01 Jun

A beautiful spring morning with Michaela Römer

The morning she picked me up for our monthly coffee jour fixe, I happened to have my camera with me for a following short assignment. On our drive to the coffee shop I was searching for tissues in my bag and pulled out my camera. Michaela discovered the camera on my lap, winced and immediately said: "Oh, you better put that thing back in your bag." Curiously I asked: "Why?" And she replied: "Today I don't feel photogenic at all. My hair is a mess, I look super tired, and this morning I didn't really bust out a camera worthy outfit." Ha! Now she got me started, and instead of putting my camera back into my bag, I left it outside. All of a sudden I had the strong urge to show her how insanely beautiful she is despite her actual self-belief that morning.

But now onto my wonderful friend Michaela Römer. A while back I had already introduced you to her via my coffee talk interview series. If you still haven't heard from this super talented jewelry designer, please do yourself a favor and check out her art work, I promise you won't regret it.

Michaela is my soul sister for various reasons. Not only are we born in the same year, and raised in the same town, we also have a lot more things in common and consider us both as introverted extroverts. ???? Michaela is such a thoughtful and caring friend, and whether the going gets great or the going gets tough, I can always rely on her. She just knows how I feel or think and can relate. And when I'm at my wit's end, she shows me the way, offers great advice, and feeds me with goodness. She teaches self love and how to live a full life. The popular pinterest quote: "Real queens fix each others crowns" does her all the justice. I am deeply intrigued, because she's such a fierce and strong woman, but equally vulnerable and humble, which makes her just so loveable. She's a true role model and just beautiful in every sense of the word.

That morning I just had to take a few images from our walk from the parking lot to one of our favorite coffee shops. That morning everything was just about perfect. It was warm and sunny, our stroll from the parking lot along the church and chaussee to the café reminded me a bit of Paris and Michaela's cute outfit, her chic scarf and the red lipstick gave her so much effortless allure that she reminded me of one of these beautiful and confident French women who always seem to have it all figured out, and who have learned to not give a damn (here we go!).

We had so much fun imaging that we would be in Paris, slowly strolling to one of our favorite petit cafés and soaking it all in … that all of a sudden Michaela got into her flow being joyful and unstoppable … And we were thinking: what would the French women do now? Yes, we thought they would order some Champagne (our Prosecco did the trick too!), and celebrate the immediacy of pleasure, empowering sisterhood, embrace imperfection, and accepting the passage of time.

At the end of the day, we are all in this together, and we have only one life to live. So let's make the most out of it, and live it well. Here's to writing your own rules and living life joyfully! CHEERS!

Please enjoy a few oh là là images of Michaela, and have a wonderful start into this week!